FoxDog Stampede: Our Wethers
Wethers are awesome. All the goodness (that means non-smelly-stickiness) of a doe, none of the troubles (going into heat, pregnancy, babies, milking) of a doe. Wethers can be incredible companion animals; they can be trained to pull carts. They make great brush eaters and land clearers. Some wethers tend to watch over their fellow goats like a guardian. They are wonderful friends to humans and goats and other animals that are good to them!
FoxDog Stampede Harold Godwinson
Color: brown to red brown with white frosting, white spots, belly band, polled
Date of Birth: 10 April 2019
Dam: FoxDog Stampede Poppy
Sire: AJUD Shekel
Comments: Rikke had sworn to herself that she was not keeping anymore wethers. And then, Harold came along. He's the son of the doe Poppy, who is amazingly smart and well tempered. He inherited all of that. His brother, Alfred, had to be bottle fed. Harold watched this, and brought himself around to be tamed, to sample a bit of the bottle, to learn to be a human goat. He's very tame, very sweet, just like his mother. And so, he has earned a home at FoxDog.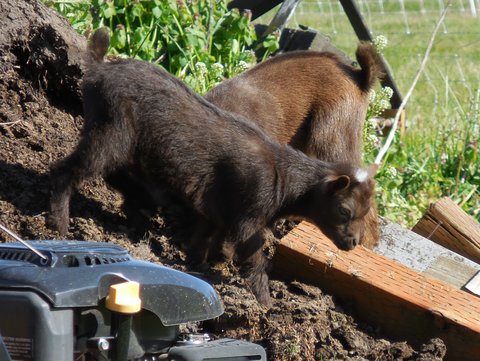 FoxDog Stampede Coal
Color: black with huge white topknot, golden eyes
Date of Birth: 30 Dec 2015
Dam: FoxDog Stampede Cherry
Sire: AJUD Shekel
Comments: Coal is a sweet, mild-manner cutie. He is very even-tempered and not at all uppity. He is naturally polled. His personality and coloring are like one of our departed, much beloved, first goats, Travis. So Coal remains as the new kid babysitter, general overseer and self appointed 'what is that you have in your hands?' determiner.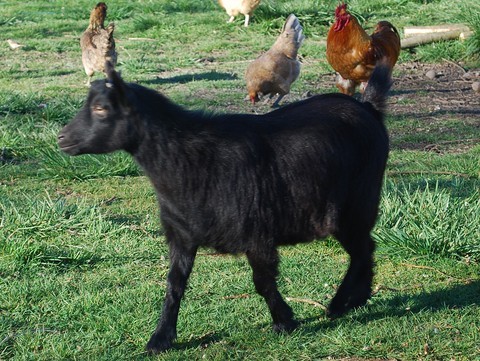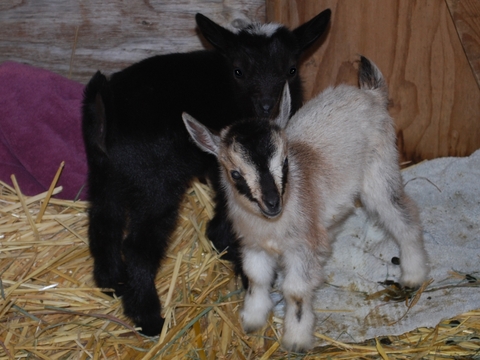 Farm Hours
Visits are by appointment only. If you wish to buy goats, please email us or give us a call (email and number above) to set up a time to visit. Thank you!